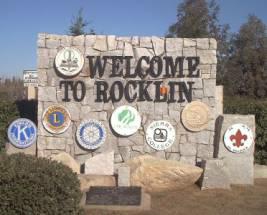 WELCOME TO ROCKLIN

Located in South Placer County at the intersection of Interstate 80 and State Highway 65, Rocklin is characterized by rolling hill terrain with 360-degree panoramic views of the Sierra Nevada mountains to the northeast and to the Sutter-Butte mountain range in the West.

Rocklin is a preferred location to live, work, visit, and grow business because of its convenient location, high quality of life, excellent schools, abundant recreational opportunities, and the highest commitment to public safety.

Rocklin is located in proximity to many tourist locations and recreational amenities. It is within 20 minutes of Folsom Lake, 30 minutes of downtown and Old Sacramento, and less than 2 hours from Lake Tahoe, the Pacific Ocean, and San Francisco.

Rocklin has been one of the fastest growing cities in California. The City's population grew 64% from 2000-2014 with a current population of approximately 60,000. In August 2008, Family Circle magazine named Rocklin one of the "10 Best Towns" for families in America (it was the only California city on the list).
The City's strongest assets are its residents, and citizen input and participation set Rocklin apart. We are proud of Rocklin's rich heritage and excited about its future. Thanks to residents, businesses and community leaders working together, we can ensure a bright future.
Vision Statement
The City of Rocklin's mission is to become a city that provides its citizens with exceptional quality of life while maintaining its small town sense of community.
Click here to register for more information
Rocklin Gated Communities
DRE#: 01302808
Foundation Real Estate
jen@jenterrill.com9024 Elk Grove Blvd, Elk Grove, CA 95624